Finding Our Voice through Song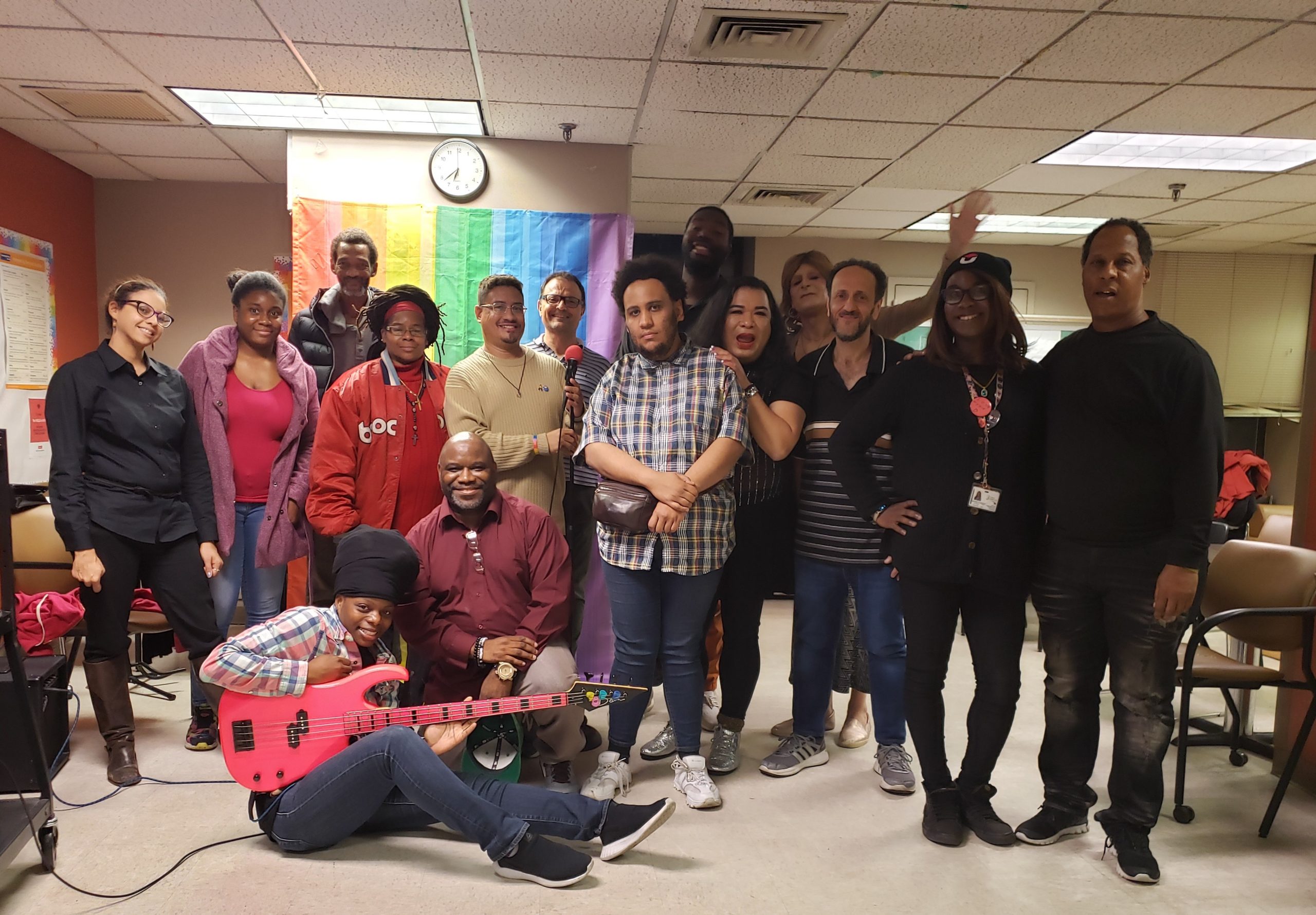 A Night of Fun & Unity
It's Friday night at Rainbow Heights Club and a single microphone stands at the front of the community room. A large rainbow flag serves as the backdrop for a makeshift stage. Members sit in the audience whispering amongst themselves. There is a palpable sense of shared excitement in the room. Then a staff member slowly approaches the microphone. The room gets quiet.
"Welcome to our first ever Rainbow Heights Got Talent: An Evening of Karaoke!" A round of applause fills the room. "My name's Bernadette and I'll be your MC for the evening. Remember, tonight is a night for having fun, being courageous and taking risks, and supporting one another," Bernadette says. The crowd cheers.
Bernadette, hostess for the night and a certified peer specialist at Rainbow Heights, is an example of the effectiveness of peer advocacy work. Bernadette first came to Rainbow Heights as an intern through the peer training program at Howie the Harp. Since completing her internship and course work, she has been hired as a full-time certified peer specialist. Bernadette was first admitted into a psychiatric hospital when she was nine. "They told me that I would never be normal," Bernadette reflects. "I've wanted to give up so many times, but something just kept saying 'keep going' and now I love my job. I love being able to help people." Rainbow Heights Club has provided a space for Bernadette to not only find her own recovery and safety but also to provide that to others. As a self-identified member of the LGBTQ+ community, she notes the importance of community and belonging. "We are all under the same umbrella here. And everyone is on their own journey. You don't have to start where someone else started or end up where someone else ended."
So often LGBTQ+ living with mental illness can feel extremely isolated due to the double stigma of their sexual orientation or gender identity and their mental health status. When LGBTQ+ people lack access to peers it can feel as though they don't belong anywhere. Or it can feel as though they are completely alone in their struggle, invisible as they move through the world. Typically, these feelings contribute to and perpetuate negative mental health symptoms.
Also, LGBTQ+ people have been historically marginalized, silenced, and erased from history. Sometimes, the perception of LGBTQ+ people living with mental illness can be that there is not anyone else who is going through this or even anyone who will understand. After all, up until 1973, the DSM (diagnostic statistical manual) used to list homosexuality as a mental illness. This exact history of pathologizing sexuality and gender identity keeps many LGBTQ+ people from seeking help.
One of the primary goals of the programming at Rainbow Heights club is to alleviate the feeling of loneliness and isolation by providing peer support and advocacy in an affirming environment. One Rainbow Heights Club member said, "What I like about Rainbow Heights is the unity, the feeling of safety: emotionally, physically, and mentally." The services Rainbow Heights Club offers includes one-on-one peer support, 25+ groups per week (like karaoke, healthy relationships, coping, etc.), an evening meal program, daily carfare support, and more.
Now halfway through the evening of karaoke, Randy Killings, director of peer services, approaches the stage: "Now y'all know I don't normally do this, so enjoy it," he remarks before giving a wonderfully soulful rendition of Larry Graham's "One In A Million You." When he finishes the crowd jumps to their feet and cheers. Randy is also a graduate of Howie the Harp and he worked from an internship to a part-time job, to a full-time job, and then to his position now where he supervises the entire peer specialist staff and manages the day to day operations of the Club. "My goal is to continue supporting people in their recovery and, when I can, become a mentor for the next generation of young people who are passionate about working with adults living with serious mental illness," Randy says.
Over the course of the evening, over 20 members and staff performed a variety of songs. As the event wrapped up, members assisted staff in the clean-up and two things became abundantly clear to anyone who was in the room that night: 1) The power of community members encouraging and lifting up each other's voices can be a powerful tool for recovery and mental wellbeing and 2) Rainbow Heights definitely does have talent.
Note: To learn more about the Club, visit www.rainbowheights.org
Pullout: "…LGBTQ+ [persons] living with mental illness can feel extremely isolated due to the double stigma of their sexual orientation or gender identity and their mental health status…The power of community members encouraging and lifting up each other's voices can be a powerful tool for recovery."